Sarah Palin Tells Hannity She 'Wouldn't Be Afraid' Of A Brokered Convention, May Be 'Very Good'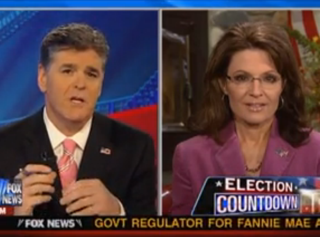 With the Republican campaign continuing to roll on, ready to crash into March, Sarah Palin has been one of the more vocal figures sounding the siren for the possibility of a brokered convention, out of which any member of the Republican Party could leave the nominee. She told Sean Hannity that she didn't expect "the establishment would come to me," but nonetheless embraced the idea as "continuation of the process." She also gave some support and advice to Rick Santorum on his faith comments.
RELATED: Sarah Palin To Eric Bolling: 'I'm Game' To Run For Office, 'All Bets Are Off' In A Brokered Convention
"I wouldn't be afraid of that," she told Hannity, adding that it was a "continuation of a process… that would perhaps be very good," and that the way the map is configured in support for the current candidates, it was entirely possible. She also noted that to discount Newt Gingrich at the moment would be unwise, since "in the past few days, he has done well." She also implored all the candidates to talk about "the inherent link between energy and prosperity" more.
Hannity also brought up Santorum's comments on good and evil, which he believed to have been taken "totally out of context," and Palin agreed. "The liberal mainstream media… will attack any conservative who boldly proclaims their faith." In these cases, she added, "there need to be surrogates helping out… we need to speak up for someone like Rick Santorum."
The segment via Fox News below:

Have a tip we should know? tips@mediaite.com