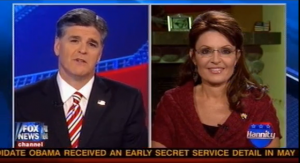 Thursday night, Fox News' Sean Hannity spoke with former Alaska governor and one-time Republican vice presidential candidate Sarah Palin about the current GOP field.
Commenting that she can do her part to "shake things up from the outside," Palin noted that Newt Gingrich's recent rise in the polls comes as no surprise given his solid performance across the Republican debates. But while she concedes that much is still in flux, Palin believes the race ultimately comes down to Mitt Romney versus any number of "non-Romneys" taking their respective turn at the top.
RELATED: Sarah Palin Sticks Up For Ron Paul: Media Treatment Has Been 'Unfortunate' And 'Unfair'
Palin also made sure to name drop her former foreign policy adviser Peter Schweizer's new book, Throw Them All Out, telling Hannity that Americans need to read up on government's "culture of corruption."
But back to Romney:
Well, Romney with his 22 percent of the supporters who will show up to vote in those GOP primary processes… He's been steady. He has had that experience as a candidate now for four or five or six years, essentially, running for president. […]

He has done well in the debates and he has even been able to explain somewhat some of what is, in layman's terms, his "flip flops," how he chose to take one position as the governor years ago and now has kind of shifted gears and "flip flopped" on some of these positions. He's been able to explain some of those. So, in those terms he has done well in the debates.

But, you know, people… I don't know if voters have made up their minds yet.
She added that vetting is important, citing Barack Obama as an example of a politician who could have been vetted more thoroughly. She also warned against falling for the liberal media's "distracting" reports on candidates' gaffes and "idiosyncrasies."
Have a look, via Fox News:
Have a tip we should know? tips@mediaite.com