Sarah Palin's A Natural As She Upstages William Shatner On The Tonight Show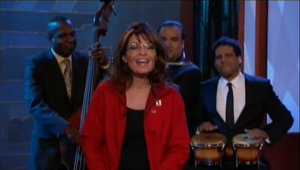 William Shatner has been rubbing shoulders with his fair share of the right wing power structure lately. Last night, not long after debating health care with Rush Limbaugh, he was stage-crashed by a sly Sarah Palin on Conan O'Brien's Tonight Show.
Shatner comes on to read some choice revelations from Palin's blockbuster Going Rogue, in his trademark pseudo-thespian tone with a silly bass line and bongo-backing, and that's funny on its own. But then comes the bombshell. Joke's on you, Captain Kirk!
Sarah Palin, in the red-jacketed flesh, strolls on stage to humongous applause, clutching a copy of Shatner's own autobiography, Up Till Now. She then takes her turn, reading an excerpt from Shatner's respective ghostwritten masterpiece and [insert lazy "Sarah Palin can read?" joke] here. Conan looks very pleased with himself and what has transpired on his stage.
But the real takeaway from Friday's Tonight Show is twofold: Not only is Sarah Palin a great sport — which she demonstrated, albeit more shakily, on Saturday Night Live during the 2008 campaign — but she's grown into a hell of a performer. She's loose and natural in her reading, owning the cue cards like a champ, grinning and overall, just running the stage. The fluidity she's regained — originally exemplified in her oft-forgotten fiery RNC speech, but that dissipated through the campaign haul and some dropped-ball interviews — is almost scary to watch, because we've seen it perfected in front of our very eyes. She's in this for real.
Secondly, but not unrelated, Palin's role as a bona fide media star (touched on in these pages) has brought her to a point where Conan and the rest of the "Hollywood liberal elite" have no choice but to play ball because of the buzz she garners. Sworn political enemy to the thinkers, stars and coastal choice meat? Maybe. But as a media outlet, manager or host, you can't pass up the opportunity for a Palin appearance. And her star keeps getting brighter.
Check out the clip below:
Have a tip we should know? [email protected]