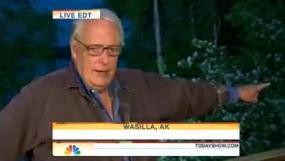 Sarah Palin's new neighbor, author Joe McGinniss, got up early to talk to the Today show's Matt Lauer from his porch this morning.
McGinniss said he was hoping for a "great friendship" with the Palin family, but instead he felt the brunt of her Facebook page – tactics, he says, like "Nazi troopers used in Germany."
Correspondent Janet Shamlian, live from Wasilla also, set up the segment: "Is this just good immersive journalism, or is it stalking?"
Meanwhile, her report revealed McGinniss wouldn't let the NBC cameras shoot from his house over to the Palin's: "McGinniss is not allowing any photos of the Palin's home from his property, out of respect, he says, for their privacy."
Lauer then interviewed McGinniss, who said he had hoped to live next to the former VP candidate "peacefully, if not with great friendship." But then came Facebook and her "revolting" comments, revealing the "power Palin has to incite hatred," said McGinniss. "I'm not calling her a Nazi, but that's the same kind of tactic that the Nazi troopers used in Germany in the '30s, and I don't think there's any place for it in America," he said.
And…there's your takeaway quote, folks. It probably won't matter much that McGinniss says he isn't here to do anything "creepy" and he would have been "living in this house if the Palins lived on the Moon." (McGinniss says the location is totally random – he had to live somewhere in Wasilla to write his book, and this house just happened to be a good deal.)
If McGinniss is hoping to ingratiate himself to the Palins, as he continues to maintain, this interview may not be the best way to do it. McGinniss' wife will be in town later this week, he says, and more of his family are expected throughout the summer. With a 14-foot-fence between them, and the very public way both sides have made the neighborly dispute, a block party is still unlikely.
Here's the Today interview:


—–
» Follow Steve Krakauer on Twitter
Have a tip we should know? tips@mediaite.com