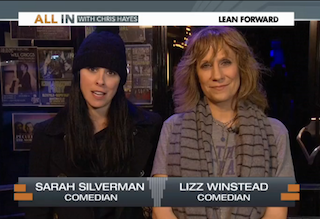 Comedians Sarah Silverman and Lizz Winstead came together Monday night to host a New York City fundraiser that aimed to help women in Texas gets better access to abortion and other reproductive health services after that state's controversial HB 2 law went into effect earlier this month. The pair joined MSNBC's Chris Hayes to discuss what made them decide to get involved in the cause.
"I believe in a woman's right to choose," Silverman told Hayes. "Very quietly, our rights are being chipped away, state by state, sometimes more loudly than others. But also, some real down under stuff. Also, much like the pro-lifers, I believe in protecting the child–when she's being forced to have a baby at 14."
Winstead addressed the charge that she and Silverman are "New York City liberals" meddling in Texas' business. "We don't consider that we're trying to help Texas women do anything," she said. "They're on their own. But what anybody needs is cash." She explained that as of November 1st, many Texas clinic were shut down, forcing women to travel great distances to get the services they need.
Asked if comedy can help break down the "taboo" surrounding abortion, Silverman answered, "I think vaginas really, really scare people, honestly." Before the segment ended, she added, "I think the people of New York have made it clear that they don't like to told what to do with their bodies… when it comes to taking away their 20-oz Coke!"
Watch video below, via MSNBC:
[h/t Salon]
[photo via screengrab]
— —
>> Follow Matt Wilstein (@TheMattWilstein) on Twitter
Have a tip we should know? tips@mediaite.com