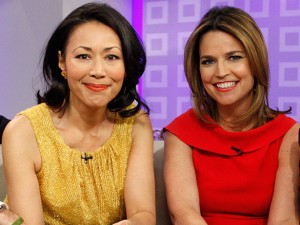 Following yesterday's teary goodbye from Ann Curry, Savannah Guthrie will officially be joining Matt Lauer as the co-host of Today, according to The Hollywood Reporter. NBC News will make the announcement today, the report says.
RELATED: Ann Curry Says Good-Bye On Today: 'I Love You And I Wanted To Give You The World'
The news isn't particularly surprising, as Guthrie's name immediately made the rounds following news of Curry's departure. Guthrie's been co-hosting the 9 a.m. hour of the show with Natalie Morales and Al Roker. Guthrie is also NBC News' chief legal analyst. Previously, she co-hosted The Daily Rundown with Chuck Todd on MSNBC.
Curry bid us farewell on the show yesterday morning in an emotional, sincere segment. She told her viewers, "I love you and I wanted to give you the world. And I still do." She admitted it wasn't how she "expected to leave this couch after 15 years." Curry's new role is NBC News National & International Correspondent and Today Anchor at Large.
UPDATE: NBC News announced Guthrie's new role. The "new TODAY team of Matt Lauer, Savannah Guthrie, Al Roker and Natalie Morales officially debuts Monday, July 9." Per NBC News:
"As soon as Savannah joined NBC News she was a standout, reporting for every franchise in the news division and rising through the ranks," said TODAY executive producer Jim Bell. "She has a one-of-a-kind combination of sharp wit and approachability, and our viewers value her journalistic skills and legal background just as much as her humor and charm. She can effortlessly go from interviewing the Secretary of State to jumping Olympic-sized hurdles on the plaza. I'm thrilled to welcome Savannah as our newest co-anchor, and along with Matt, Al and Natalie, we've got the best morning team in the business."
(H/T THR)
Have a tip we should know? tips@mediaite.com