'Save The White House' Ads Launched By AMC In Response To DISH Decision To Drop Network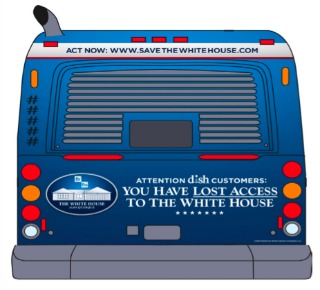 AMC — home to shows like Mad Men, The Walking Dead and Breaking Bad — is launching a campaign alerting current and potential DISH Network customers that the satellite broadcaster is planning to drop the network at the end of June.
The campaign will appear on websites, two billboards in Denver, and buses in both Denver and Washington, D.C. beginning today, Monday, June 25.
AMC has previously stated that DISH is dropping its programming because of an unrelated a $2.8 billion breach of contract lawsuit in which a judge has ruled DISH destroyed evidence. The lawsuit against DISH alleges, as Wired explained, that the company had reneged on an agreement to carry the network's Voom HD channels in 2008. Earlier this month, DISH had attempted to strike a blow to AMC, Etv, and IFC by hitting them where it hurts — their viewers — via making the networks much more difficult to find.
In a release circulated May 4, 2012, AMC noted the following:
As a result of a new ruling in the ongoing VOOM HD/DISH litigation, the case will now be set for trial. In the latest ruling, filed on Thursday, April 26, 2012, the Appellate Division of the New York State Supreme Court denied DISH's application to further appeal a prior trial court decision sanctioning it for bad-faith destruction of evidence in the case.

The case began in 2008, when VOOM HD (an indirect subsidiary of AMC Networks (NASDAQ: AMCX)) sued DISH Network for breach of contract. The case concerns a contract in which DISH agreed to carry a suite of HD networks known as VOOM for 15 years. In early 2008, DISH improperly terminated the VOOM contract, and VOOM HD filed suit, seeking over $2.5 billion in damages.

In a pre-trial ruling, the trial court judge ruled that DISH had destroyed evidence in the case, citing DISH's "pattern of egregious conduct and questionable – and, at times, blatantly improper – litigation tactics."
The ads direct use the slogan "Save the White House" — a reference to Breaking Bad's Mr. White character. The campaign urges Breaking Bad fans to visit www.savethewhitehouse.com for more information on how to keep the network on DISH.

Have a tip we should know? tips@mediaite.com