Saxby Chambliss Dismisses Greenwald: 'No Program With As Much Oversight' As NSA Surveillance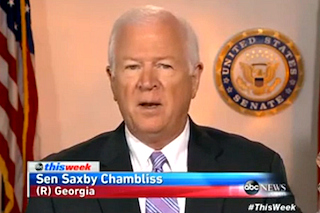 Immediately after Glenn Greenwald told George Stephanopoulos that the NSA granted low-level private contractors the capability to monitor phone calls and emails without court oversight, Saxby Chambliss, Vice Chairman of Senate Select Intelligence Committee, responded that the NSA allowed no such access, and affirmed the existing oversight of the surveillance programs.
"The right kind of oversight is absolutely necessary," Chambliss said. "We've got oversight now of this program, by the Department of Justice, by NSA, by the FISA court, by the intelligence committees, by the Judiciary Committee. Let me tell you, there is no other program in the intelligence community that has as much oversight as this one."
Chambliss disputed Greenwald's claim, an elaboration on Snowden's earlier description of his ability to wiretap any citizen he wanted, that private contractors could monitor communications via a simple computer program.
"I was back at the NSA just last week," Chambliss said. "Spent a couple hours out there with high-level and low-level NSA officials, and what I had been assured of is that there is no capability at NSA for anyone without a court order to listen to any telephone conversation or monitor any email. In fact, we don't monitor emails. That's what assures me that what the reporting is is not correct. Because no emails are monitored now. There used to be, but that was two, three years ago. So I feel confident that there may have been some abuse, but if there was it was pure accidental."
"We have to reach the right kind of balance between protecting Americans and giving more than 100% protection on the privacy side," Chambliss said. He then added:
"But we've also got a responsibility as policy makers to make sure that our intelligence community and our law enforcement community has the tools with which to provide the kind of protection that we've had since 9/11. If we'd have had this program pre-9/11, we now know that there's a good chance we would have intercepted the phone calls between one of the 9/11 hijackers in San Diego, al-Mihdhar, and a safe house that he was calling in Yemen. We were monitoring the safe house btu we weren't monitoring the calls that were coming out of the United States. Section 215 picked those calls up. Who knows what would have not have happened on 9/11 had that been the case."
Watch the full segment below, via ABC News:
—
>> Follow Evan McMurry (@evanmcmurry) on Twitter
Have a tip we should know? tips@mediaite.com