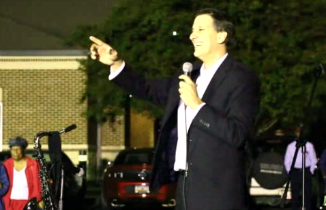 "Escort whore out the door." Either this was a thick accent making for a gaffe, or, a dangerous play on words. Either way, it didn't seem to bother S.C. Sen. Vincent Sheheen, the man challenging incumbent Republican Governor Nikki Haley, when he said it Thursday evening.
During a Democratic stump event in Florence, S.C., Sheheen delivered fiery remarks against Haley, lambasting her for reportedly vetoing state education funding bills while approving pay increases for her own staff.

"That is bad politics, and we are going to escort whore out the door," he said to applause before quickly re-enunciating: "We are going to escort her out the door."
The crowd laughed and cheered, and Sheheen seemingly acknowledged the slip with a chuckle before imploring everyone to "calm down."
The South Carolina Democratic Party was quick to pre-empt any controversy by releasing a statement noting Sheheen's thick accent:
"Sen. Sheheen clearly did not say that and the video proves it. The line 'escort her out the door' became garbled, and he re-enunciated immediately afterwards in the speech to make himself clear. This is nothing more than a fabricated controversy to distract from the fact that a sitting governor is stuck in the low 40s just days before the election. Nikki Haley and her allies have a long track record of being dishonest, and this matter is no different."
In a phoner with Talking Points Memo, the party's communications director echoed those thoughts: "He has a very heavy southern accent and it just garbled together and the crowd kind of laughed," she said. "And he very clearly re-enunciated to make himself clear."
The Haley campaign has yet to comment on the flub, perhaps indicating they've accepted the Democrats' statement as a rational excuse.
Watch below, starting at roughly 55 seconds in, via SCNow (sincerest apologies for the autoplay):
[h/t @AndrewPerezDC]
— —
>> Follow Andrew Kirell (@AndrewKirell) on Twitter
Have a tip we should know? tips@mediaite.com