State Dept. Email Reveals U.S. Embassy Request To Keep Airplane In Libya Was Denied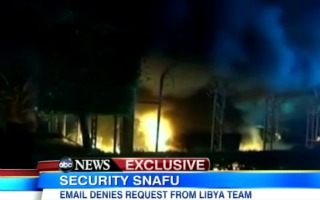 Nearly one month after the deadly attacks on a United States consulate in Libya, an email from the U.S. State Department obtained by ABC News adds to the impression that the federal government could have done more to prevent that attack. The email shows that a request by the security detail at the United States Embassy of Libya to retain a DC-3 airplane to facilitate in-country travel was denied in May. The revelation leaves more questions as to whether the consulate in Benghazi that came under assault multiple times over the year culminating in the deadly 9/11 attacks was provided with an appropriate level of security.

RELATED: New Evidence Of Warnings Before Benghazi Attack: Consulate Bombed Twice Prior To 9/11 Assault
ABC's explosive report on the request by the officials at America's embassy in Tripoli does not claim that the State Department's rejection of the request to retain the DC-3 would have saved the lives of the four Americans who lost their lives on 9/11.
No one has yet to argue that the DC-3 would have definitively made a difference for the four Americans killed that night. The security team in question, after all, left Libya in August.
However, as ABC's Jake Tapper notes in the report, the denial of the request suggests that U.S. officials were either unaware or dismissive of the security threats faced by American diplomatic personnel in the turbulent North African nation.
This is the latest development in a string of revelations that have emerged about the threats faced by American diplomatic personnel in Libya prior to the 9/11 attacks.
In the last two weeks, Daily Beast reporter Eli Lake has confirmed that multiple intelligence sources knew that the attack in Libya was led by Al Qaeda operatives after just 24 hours – contradicting assertion by high-ranking Obama administration officials.
Lake later revealed that the consultate in Benghazi came under attack multiple times in the past year, leading many to question why the consulate was not well protected leading up to the 9/11 attack.
Read the full report via ABC News
> >Follow Noah Rothman (@Noah_C_Rothman) on Twitter
Have a tip we should know? tips@mediaite.com