Scarborough Addresses Chant Controversy: 'Cheeto Brigade's' Conspiracy Theories Getting Out Of Hand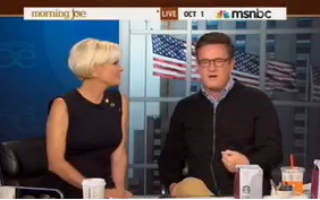 Earlier, we'd reported on Morning Joe host Joe Scarborough's rather visceral reaction to Mitt Romney's remarks during a recent rally in Dayton, Ohio.
According to initial report, including our own, Romney had introduced his running mate Paul Ryan as "quite a guy," with the crowd then erupting into cheers of "Ryan! Ryan!" A laughing Romney then corrected them by starting up a chant of his own, reminding them that both their names are on the ticket. Such was the subtitled video Morning Joe showed last week, and such was the situation Scarborough reacted to by covering his face and breaking into prayer.
RELATED: Joe Scarborough On Deadly Romney Crowd Reaction: 'Sweet Jesus!' Romney A 'Horrible Politician'
Well, BuzzFeed reporter McKay Coppins disputes that video's subtitles, writing that — according to what he heard firsthand at that Oho rally — this isn't what was said at all:
But the subtitle in the clip misrepresented what actually took place. BuzzFeed was present at the event, and took note that the crowd was actually chanting Romney's name, before he encouraged them to add his running mate to the chant.
Coppins also refers to the New York Times' account of that rally, which echos his report on what what was said by whom.
Shortly after, Scarborough took to Twitter to respond to these differing accounts: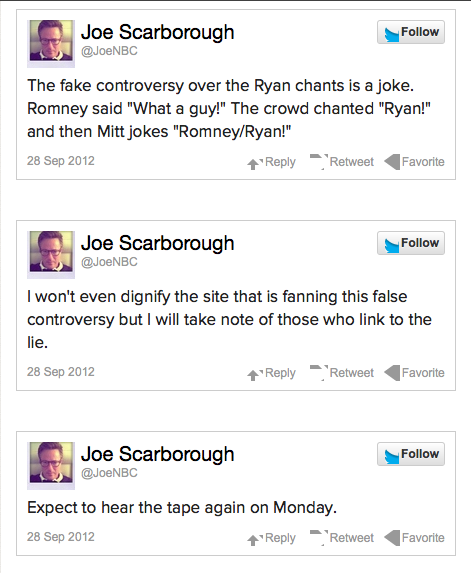 Later, a spokesperson from Morning Joe sent the following statement to BuzzFeed, standing behind the show's account of what was said:
This story is an attempt to generate a false controversy. The tape clip was untouched and was played as it was recorded. The panel was responding to Romney's playful response and having fun with it. Joe and the gang apologize for making people laugh in the morning.
Then, Monday morning, Scarborough addressed the "controversy" once again, taking on what he referred to as the "Cheeto brigade" (i.e. bloggers and online reporters) for stirring up "conspiracy theories" and for going after the Morning Joe staff for allegedly having "doctored" the tape in question. As for calls to "boycott" the show, Scarborough noted that, last time people decided to boycott Morning Joe, it resulted in a ratings boost. "If we can get a boycott from the right as well as the left," he said, "we're going to be in great shape. Our numbers are going to keep exploding upward."
Have a look, via MSNBC:
Have a tip we should know? tips@mediaite.com