Scarborough And Brzezinski Clash Over Whether MSNBC And Fox News 'Exactly The Same'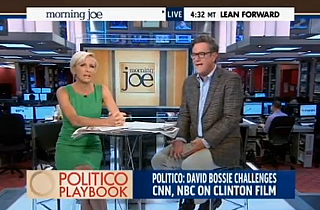 While discussing RNC chairman Reince Priebus' complaints against CNN and NBC running biopics on potential 2016 Democratic candidate Hillary Clinton, MSNBC's Morning Joe co-hosts clashed over whether Fox News and MSNBC are "exactly the same."
Mika Brzezinski had been suggesting that Priebus was "missing the elephant in the room" by calling out CNN and NBC while ignoring the fact that the GOP has "its own network" in the Fox News Channel.
This prompted Joe Scarborough to jump in: "Every time you bring up Fox, you gotta to bring up MSNBC," he said.
"I don't see MSNBC going after Democratic presidential candidates and trying to hire them or trying to push them into forefront," Brzezinski asserted. "And everything you read is that Roger Ailes gets behind Republican candidates, he hires them, he puts them on the air. It is a mouthpiece for the Republican Party."
"I'm sorry I can't be quiet here," Scarborough declared. "I can't be quiet. What do you think MSNBC is at night?" he then asked. "It is exactly the same!"
His co-host disagreed, prompting him to respond: "Of course you don't think so because you are a Democrat!"
Brzezinski insisted that, unlike Ailes' past hirings of and support for Republican politicians, MSNBC chief Phil Griffin would "never" use the network as a platform to support his preferred candidates.
"I really need to be calling my agent," Scarborough jokingly continued before playfully suggesting his career is now "over" for attacking his own employer.
Watch the clip below, via MSNBC:
[h/t
Politico
]
— —
>> Follow Andrew Kirell (@AndrewKirell) on Twitter
Have a tip we should know? tips@mediaite.com