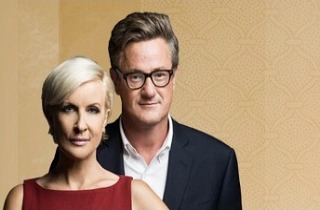 With yet more rumors that NBC is looking to pull the chair out from under David Gregory as moderator of Meet the Press, it's time serious replacements are considered. The Daily Beast's Lloyd Grove reports that MSNBC Morning Joe co-hosts Joe Scarborough and Mika Brzezinski "have been aggressively angling" for the job.
Let's just get this out of the way: Scarborough and Brzezinski would be the absolute worst choice for NBC.
Aside from Al Sharpton.

Scarborough and Brzezinski aren't talentless; in fact, quite the opposite. They do and say interesting things on TV all the time. But they're so shamelessly in love with being on TV and knowing important people; and that's the opposite of what a show like Meet the Press needs.
Not that Gregory isn't those things already. By most accounts, he is. But watching Gregory on TV, you wouldn't know it.
When Morning Joe comes back from a commercial break, viewers are treated to bumper music accompanied by gauzy glamour shots of their fabulous hosts mugging for the camera.
The Instagram account for the show is basically the same. There's a photo of Brzezinski and Scarborough in black-tie party attire (heading to a Vanity Fair party). There's another of Scarborough walking down a hallway with hunky actor Bradley Cooper.
That one photo with Brzezinski peering through a crack is a little weird. But then you might remember that famous photo of her climbing on a wooden table in a little black dress, leg raised high, stiletto pointed skyward.
You don't see any of that from Gregory or other Sunday show hosts. Because that's not serious. Just for comparison, this is one of the few photos from the Meet the Press Instagram to feature Gregory:
On Morning Joe, Scarborough and Brzezinski act like two kids in a treehouse with their friends after school. And they seemingly enjoy knowing there are kids down below who wish they could be in that tree house, too.
That love-affair-with-power works well for them on Morning Joe, which is basically the Today Show for the Beltway set. Watching Scarborough and Brzezinski talk with their guests is like watching one of those Al Roker interviews where he bathes in the glow of Michelle Obama or shouts like a fanboy at Joe Biden to ask for a handshake.
As the Daily Show team so thoroughly demonstrated, Scarborough and Brzezinski love being friends with important people like New Jersey's Republican Gov. Chris Christie.
Politico hosted an event featuring Scarborough and Brzezinski back in November, and, on stage, mid-event, the two gleefully pulled out Brzezinski's phone to call Christie on his personal number so that he could say hi to the audience.
Imagine one of the Sunday news show anchors doing that.
They wouldn't. Given their roles as the anchors of respected Sunday news programs, they know they should keep their friendships with political figures at least a little private.
Meet the Press is supposed to be a show where public officials are asked sharp questions in order to get clear answers. Gregory and other Sunday news show anchors are typically straightforward interlocutors whose sole aim is to inform their viewers. Scarborough wouldn't be able to play that role.
Last summer, he interviewed then-White House press secretary Jay Carney. When the MSNBC host wasn't satisfied with Carney's dodgy answers, he went into a lecture about how the two have "known each other for too long" and that he wasn't "somebody you talk down to."
The small sadist inside every cable news enthusiast relishes that type of "interview." But most Americans aren't cable news enthusiasts.
Meet the Press viewers are taking time before or after breakfast to check in on politics and find out what important news happened over the last week.
Scarborough and Brzezinski can't give them that. Let's hope the rumors prove untrue.
[Image via MSNBC]
— —
>> Follow Eddie Scarry (@eScarry) on Twitter
Have a tip we should know? tips@mediaite.com