Scarborough Battles Hewitt on Media Bias: 'Hugh, Please Don't Embarrass Yourself'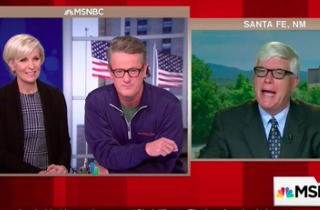 During a heated discussion with Hugh Hewitt, Morning Joe host Joe Scarborough discussed how conservative media has sided Ben Carson amid his recent slams against liberal media bias.
When Hewitt argued that the media shouldn't be "knifing" GOP candidates while ignoring issues like Hillary Clinton's email scandal, Scarborough retorted that he and other media outlets have been digging into her controversies for months, whereas the controversy over Carson's West Point story has only blown up for a few days so far.
After Hewitt made reference to "You Manhattan people" who take pleasure in criticizing Carson more than Clinton, Scarborough shot back, "I put my neck on the line every single day here. Hugh, please don't embarrass yourself… you owe me an apology on the air right now because you know better than to say that about me."
"The mainstream media will not cover Hillary's problems," Hewitt responded, which sent Scarborough into a fit of disbelief. 
"If your only argument is that the media is covering Ben Carson for a day and a half but they haven't covered Hillary Clinton's problems long enough, that is not a very strong argument," Scarborough said. "If you're interested in impressing the Republican base and not winning the presidency, then keep that up. This is about finding out who the strongest Republican candidate is."
Hewitt responded that the CNBC debate established that the media favors Democrats, and that Carson's fight with the media has been getting more attention than matters like Clinton's scandals.
Watch above, via MSNBC.
[image via screengrab]
Have a tip we should know? tips@mediaite.com