Scarborough Blasts Clinton and Lynch's 'Extraordinarily Bad Judgement' After Private Meeting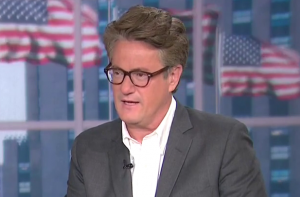 The panel of MSNBC's Morning Joe was bewildered Thursday by Attorney General Loretta Lynch and former President Bill Clinton's decision to meet privately on a personal plane, even though Clinton's wife Hillary Clinton may be under investigation by Lynch's FBI.
"She shouldn't have let him on the plane. He shouldn't have wanted to get on the plane," Bloomberg Politics' Mark Halperin said bluntly.
"That shouldn't have happened on either side," agreed Willie Geist. "I think Attorney General Lynch has shown herself to be a solid attorney general at this point. I'll give her the benefit of the doubt that she wouldn't be corrupted by one conversation with Bill Clinton, but it shouldn't have happened."
"I don't understand how it could possibly be that no one traveling with the attorney general or the former president wouldn't have said, 'This is a bad idea,'" Halperin put in.
"Even in my little, little, little world, in a congressional office, if I had ever suggested anything along those lines I would have twelve people jumping up yelling at me, 'Bad idea, Congressman, stay away," host Joe Scarborough agreed.
"These two people showed the most extraordinarily bad judgment," he continued. "And where was their staff? Who was on the plane with Loretta Lynch to say, 'You cannot do this'?"
"This is why this is going never be a problem for Hillary Clinton, because people are too afraid to talk about the truth and the fact that this was wrong from the get-go and wasn't allowed, as she said," said co-host Mika Brzezinski.
Brzezinski got in one final zinger as the show went on to the next segment: "We'll just move on, just like everyone else does, even though it's a complete sham."
Watch above, via MSNBC.
[Image via screengrab]
——
>>Follow Alex Griswold (@HashtagGriswold) on Twitter
Have a tip we should know? tips@mediaite.com