Scarborough: Boehner Has to 'Start Behaving as if He Won't be Speaker Next Time'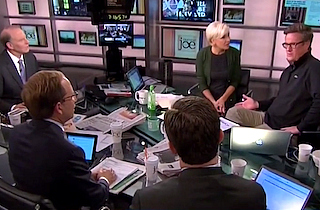 MSNBC's Joe Scarborough argued on Morning Joe Monday morning that House Speaker John Boehner was unlikely to retain his leadership role past the next election, and should start dealing with the current shutdown crisis without regard to his own survival—including passing a "clean continuing resolution," i.e. one that funds the government without affecting ObamaCare.
"John Boehner goes to the White House and says to the president, listen, I want to work with you," Scarborough hypothesized. "You're gonna have to give us something. You do this so we can have deals in the future. I can roll over my party, I can roll over the minority in my party, but if I do we're not getting anything done over the next three and a half years. So just do something, and I will give you a clean C.R. and a clean debt ceiling."
"Back in July John Boehner said he would do that, and now he's backed up to where he is today," guest Steve Rattner said.
RELATED: Boehner Warns Stephanopoulos U.S. Will Default Without Deal: 'It's the Path We're On'
"You know what?" Scarborough replied. "John Boehner has to just assume he's not going to be speaker next time and start behaving that way. When he does, I think he'll actually see remarkable things happen…It's not a guarantee, if he continues acting this way, that he'll get re-elected as speaker. That's the funny thing. People who hold on this tight, and are this fearful of the people they run, usually lose in the end anyway. "
"You talk about an adult in the room," Morning Joe regular Willie Geist said. "There is an adult in the room. His name's John Boehner. He's the Speaker of the House. He could do this today if he wanted to. I don't know that the risk is so great to him of going out and actually passing a clean C.R., a clean debt ceiling. What's the earthquake that comes after that, for him? I don't think it's as big as he thinks it is."
"It's a guillotine," Rattner replied. "If he were a to pass a clean C.R., a clean debt ceiling, and get nothing? They would take his head off in the middle of the Washington Monument."
Watch the full clip below, via MSNBC:
[Image via screengrab]
——
>> Follow Evan McMurry (@evanmcmurry) on Twitter
Have a tip we should know? tips@mediaite.com