Scarborough Brags About Fighting Conservative Groups, Adds He 'Voted with Them 100% of the Time'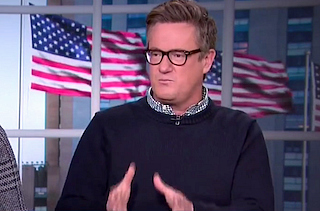 In a discussion with fellow MSNBC host Lawrence O'Donnell Thursday morning about the pressure placed on House Speaker John Boehner (R-OH) over the Ryan-Murray budget deal from outside conservative groups, host Joe Scarborough touted that as a representative in the 1990s he had defused such groups' threats with tough talk—though he added that he still voted with them 100% of the time.
"I actually had Newt Gingrich, the NRA, a lot of groups working against me around the clock, lying about me, sending out mailers that were false about me," Scarborough recalled. "What happened when they lost, when they didn't kill me? I went up to Washington, and there was a reason I could go after Newt any time."
RELATED: Conservative Groups Respond to Boehner: Still Waiting for Savings from 'Two Debt Ceilings Ago'
"But you know how it works with most people," O'Donnell said. "When they survive that they go up to Washington and then they never mess with those people again."
"I actually called the NRA guy over," Scarborough said. "I said, let me tell you something: you did something to me, and you know what, I don't need your money, I don't need your support, I need nothing from you. You guys were disgusting. You lied about me. I'm going to vote with you, probably 100% of the time, but it has nothing to do with you. We ended up having a great relationship."
"Well, voting with them 100% of the time will do that," O'Donnell replied.
Watch the clip below, via MSNBC:
[Image via screengrab]
——
>> Follow Evan McMurry (@evanmcmurry) on Twitter
Have a tip we should know? tips@mediaite.com