Scarborough, Brzezinski Confront de Blasio: Is Charter School Campaign 'Personal'?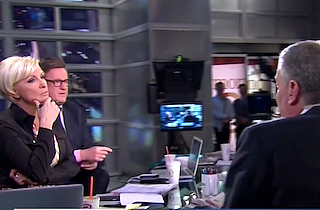 Morning Joe hosts Joe Scarborough and Mika Brzezinski challenged Mayor Bill de Blasio as to whether his effort to revoke the public spaces of certain charter schools in New York City, especially those run by Success Academy Charter Schools head Eva Moskowitz, was "personal."

Morning Joe played a clip of a fiery de Blasio during the campaign arguing that Moskowitz had an excess of money and political influence behind her, both of which would end when he was in office. Brzezinski pointed out that as Moskowitz's schools were the first he went after, the policy seemed "personal," a word the morning show hosts invoked four different times.
"We approved five Success Academy schools for co-location in this round — we disagreed with three, we approved of five and by the way, we approved fourteen charter schools out of seventeen applications," de Blasio countered. "I do think the facts matter a lot here. The bottom line is, we've got to fix the whole school system, so charters play a role in that. But a lot of other things have to happen. The schools on the receiving end matter too."
"What don't you like about Eva Moskowitz?" Scarborough pressed. "That statement seemed very personal."
"It's quite substantive, actually," de Blasio. "I respect her abilities, and I respect some of what she has achieved with kids. But what I disagree with is going into an existing school and disrupting what that school is trying to do. That process was not handled right by the previous administration. We're going to reform that process so you can do a co-location the right way."
Watch the clip below, via MSNBC:
[Image via screengrab]
——
>> Follow Evan McMurry (@evanmcmurry) on Twitter
Have a tip we should know? tips@mediaite.com