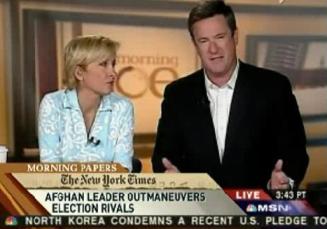 The Morning Joe crew talked about Gov. Mark Sanford this morning, and host Joe Scarborough called out "certain cable news hosts last night, some on this network," that took "unbridled glee in this man's problem and the pain of his wife, the pain of his children." But before going to break, he asked, "Should we give names?"
He was denied, so we'll do it — he's talking about Keith Olbermann and Ed Schultz.
Olbermann spent several segments on the story last night on Countdown, but the final segment featured a lengthy reading of the emails between Sanford and the Argentinian woman, with background music and a mocking tone throughout. Schultz opened his show saying, "I have no mercy here," and launched into a rant about Sanford. Both segments are below.
"I never really understood the kind of glee that people took last night," said Scarborough this morning.
Schultz is a small player at MSNBC, but with Scarborough's rising profile as MSNBC heavily promotes his book, he could be on a collision course with Olbermann, the unofficial leader of the pack. If Olbermann were to respond tonight on his show, expect an all-out war behind-the-scenes — and if history were any indication, on-air — between the two alpha hosts at the cable news network.
Scarborough continued with a none-too-veiled shot at Olbermann: "The same people that were so shocked and stunned and deeply saddened by what Mark Sanford did, and took unbridled glee in it, were some of the same people that were outraged, outraged, that anybody would bring up any questions about Bill Clinton 10 years ago. I think we need to stop the moralizing on all sides, and stop being so damn self-righteous." (Here's some backstory.)
After being told not to name names, Willie Geist closed out the segment. "You're welcome Phil," said Geist, referring to MSNBC President Phil Griffin, who likely fielded a few phone calls today from his star players.
See all the segments below:

Have a tip we should know? tips@mediaite.com