Scarborough Calls Out MSNBC Guest For Echoing 'Democratic Talking Point' On Benghazi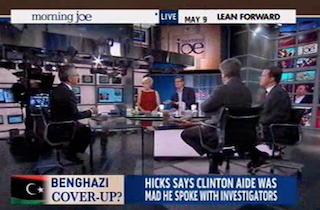 On Thursday, the Morning Joe roundtable reacted to yesterday's congressional hearing on Benghazi, during which three witnesses testified. Joe Scarborough, for one, was "floored." The panel revisited Gregory Hicks' testimony in particular — which led to Scarborough taking issue with a guest echoing "talking points."
Scarborough fixated on the portion of Hicks' remarks wherein he said, after he raised questions about the White House account of the what happened, he received calls from President Obama and then Secretary of State Hillary Clinton. "The sense I got was that I needed to stop the line of questioning," he said, adding that he was later "effectively demoted."
"This doesn't pass the sniff test," Scarborough asserted. "We are about to get into some very dangerous territory for the administration. They demote this guy and now they are doing what we have seen too often, where you try to now call him a liar?"
Donny Deutsch agreed, citing a "yuck factor." The question, he said, is whether it'll have the "sticky factor" for Clinton in 2016. To that point, Richard Wolffe compared it to Democrats and the 9/11 commission, which didn't stick to President George W. Bush.
He went on to the cite the original Benghazi review done by the Accountability Review Board, arguing that those in charge of it are not "lightweight people." Clearly, a line was crossed when Hicks was told not to speak up, he agreed, but "that is very different from suggesting that Susan Rice, who was reading from CIA proofed talking points, was willfully misleading the American people. It's very different from talking about the security lapses. And especially very different — what was most emotional in the hearing was what could have been done differently, which is what this independent review looked at."
It was "a surprise attack," he added, that overwhelmed defenses.
"That is the Democratic talking point," Scarborough replied.
"It's not a talking point," Wolffe countered. "It is reality."
"I hear it every day, and it is a talking point," Scarborough pressed. "Let me ask you this: Do you think you and I know what would have saved people in Benghazi better than somebody sitting in Tripoli that was an expert, that was the number-two guy for the United States State Department? Are we sitting here in the comfort of this studio in Midtown Manhattan — are we just dismissing what Hicks and these other people are saying?"
"I'm saying the independent review led by someone like Tom Pickering has a better idea than any of us," he said, "including the guy sitting in Tripoli, yes."
Take a look, via MSNBC:

Have a tip we should know? [email protected]