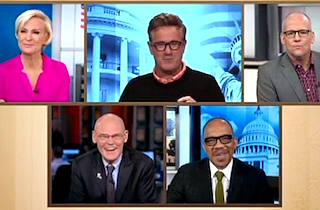 It's no surprise that James Carville is not Ted Cruz's biggest fan, but Joe Scarborough has been even harder on the junior Senator from Texas lately for pushing a defund-Obamacare strategy that Scarborough thinks could cost the GOP just when they were getting popular momentum back. On Tuesday morning, the two traded Cruz impressions, mocking his supposed bravery for taking a stand on behalf of all Republicans.
"Ted Cruz says, 'The hand that held the dagger has plunged in my back, but I will take the wound for you,'" Carville said, hamming it up. "I will be out there fighting again! Let the Scarboroughs and Mitch McConnells and the establishment Republicans—"
"If you can at least get the litany right," Scarborough said. "Let the Scarboroughs and the Tom Coburns and the Wall Street Journal editorial page and the Charles Krauthammers and the Jeb Bushes and who have I missed? Have I miss anybody else? The real conservatives in the party. Let them go ahead and be conservative and try to win elections. I will not go that route!"
"I stood in the well of the Senate against these lily-livered Republicans establishment," Carville continued, "and Ted Yahoo of North Florida, who stands with me, and I stand with you…"
"Did James just called me a yahoo from North Florida?"
"Isn't there a congressman up there, Ted Yoho?" Carville asked. (There is.) "Yahoo, Yoho."
"I hate politics," co-host Mika Brzezinski said.
Watch the full bit below, via MSNBC:
[Image via screengrab]
——
>> Follow Evan McMurry (@evanmcmurry) on Twitter
Have a tip we should know? tips@mediaite.com