Scarborough Chides Fellow GOPers: 'Extreme' Stances Led To Worst 'Disarray' Since Nixon Resignation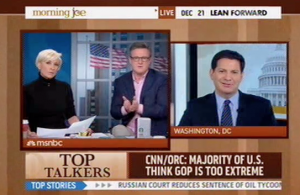 On Friday morning, Joe Scarborough took yet another critical look at his Republican "brothers and sisters," particularly in light of a new survey that showed a majority of Americans think the GOP has gotten too extreme. Citing his past warnings — about the primary race, the convention, etc. — Scarborough had a little "I told you so" moment.
The CNN poll found that 53 percent of respondents viewed GOP policies as too extreme (up 17 points from two years ago) — compared to 37 percent who said they feel that way about Democratic policies.
"I want my Republican brothers and sisters who have taken exception to some of the things i've said over the past year about us going in the wrong direction as a party — offending swing voters, offending the middle class — I want you to look at those numbers and just breathe them in," Scarborough said. The party is in a "sorry state," he added.
He then went on to hit Republican leaders for their "complete, utter silence" on key issues following the shooting at Sandy Hook Elementary School. He asked: Is this the party of assault weapons or lower taxes? Contraception wars or balanced budgets?
"This party has painted itself into an extreme corner by going down all these various rabbit trails that have nothing to do with our core of who we are as a party of small government," Scarborough argued. "I can't think of any time the Republican Party, my Republican Party, has been in such disarray — since 1974 after Richard Nixon resigned."
To that point, Mark Halperin chimed in on John Boehner's failed "Plan B" for the fiscal cliff deal. It was "a horribly designed plan," he said, "but he executed it worse." But we need a deal.
Halperin added: "Speaker Boehner's going to have to do something that almost no republican leader has done in the last couple years, which is to say, 'My party is going to have to understand that this is a more centrist country than their views.'"
Watch below, via MSNBC:

Have a tip we should know? tips@mediaite.com