Scarborough Chides GOP For 'Always Choosing The Wrong Fight': 'Going To Be On The Wrong Side Of History'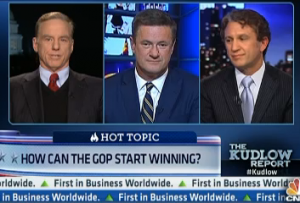 MSNBC host Joe Scarborough has a penchant for both criticizing his own party as well as offering advice for how to better it. While he usually does so on his early morning show, on Wednesday night, Scarborough took his message to CNBC where he and Larry Kudlow discussed how to "rehab" the Republican Party.
Scarborough was joined by Howard Dean and former congressman Rick Lazio (R-NY). Republicans are once again are "Doctor No," Kudlow said — they're "not putting their heads together." Specifically, they were looking at the issue of gun control, which has been particularly contentious since the Newtown massacre.
President Obama, Democrats, and some moderate Republicans are on the right side of the issue, Scarborough asserted, adding that majority of Americans support an assault weapons ban. "This is one more example of how the Republican Party is going to be on the wrong side of history, fighting for survivalists who need assault weapons instead of fighting for lower corporate tax rates to make our country more competitive across the nation," Scarborough argued.
Underscoring his point, he recalled last year's Republican primary race in which the discussion turned to contraception instead of the budget. "We're always choosing the wrong fight," he said. "We're on the wrong side on a lot of these issues."
Lazio said Scarborough was "largely right," that the GOP needs to find a way to "talk to people who are making under $50,000 a year" or aspire to start their own business. He also encouraged the party to be more inclusive, accepting those who take more moderate stances on issues such as gun control and the environment.
Noting he was the only Democrat on the panel, Dean contended that, "Republicans have missed the boat because they are demographically out of touch with the rest of the country." You can't attract younger voters if you "beat up on their friends."
Watch below, via CNBC:

Have a tip we should know? [email protected]