Scarborough, Chuck Todd: Americans Will Back Obama On NSA Just As They Support 'Aggressive' Drone Policy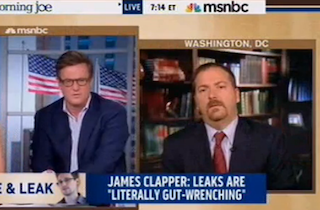 In the media sphere, we've seen much outrage over the recent stories about NSA surveillance and data mining. But what about the rest of the country? Discussing the president's response and the media frenzy on Monday, Joe Scarborough and Chuck Todd agreed that Americans will likely side with President Obama… as polling showed they did with the drone policy.
Scarborough noted Obama's transformation from vocal critic to champion of such programs, as Todd added that it was about time he responded to all the reports. And he issued a strong, smart defense, he added. The media coverage, however, won't be downplayed.
"People want their government to do this," Scarborough said.
Todd added, "They certainly don't want to find out after an attack that something could have been done." He used the Boston Marathon bombing as an example — recalling the criticism over officials missing clues.
"My gut is the same as yours," he said. "Anecdotally, this is not going to be the political firestorm."
Scarborough then turned to Andrea Mitchell, asking if she "agreed that Americans will support the president on this just as they support the president with his very aggressive drone policy." Mitchell revisited her conversation with Director of National Intelligence James Clapper who voiced precisely the sentiment Todd put forth.
"I find it a little ironic that several weeks ago after the Boston bombings, we were accused of not being sufficiently intrusive," Clapper said. "We failed to determine the exact tipping point when the brothers self-radicalized, and then it was that we weren't intrusive enough."
We'll have to see if the polling agrees, Todd noted.
Watch below, via MSNBC:

Have a tip we should know? tips@mediaite.com