Scarborough Continues To Rail Against NRA Ad's 'Shaded' Obama: 'Race-Bait' That Illustrates 'Overreaches'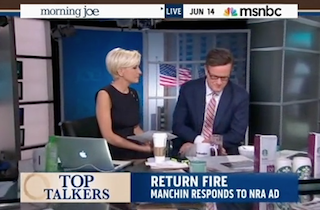 Yesterday, Joe Scarborough brought the dramatics while discussing the "shading" of President Obama in a new NRA ad. Scarborough continued that line of argument during Friday's Morning Joe, insisting that he will call out those who "race-bait" when those on his side are at fault. And the issue in this ad, he said, is obvious.
The "Washington NRA" is "not fine," Scarborough reiterated. Six months after Newtown, Scarborough pointed to the "failing of Congress," "weakness of the White House," and the "overreaction by so many people."
And the ad in question, he continued, illustrates "all the overreaches that they have made." The NRA, since Newtown, has made "one horrific mistake after another." Scarborough noted that he got reaction from people asking whether the NRA may have "shaded" Obama to make him look "more ominous and black."
"It's so obvious," he reacted. "It looks like he is a coal miner from West Virginia. … This is a question that answers itself."
(Meaning: People shouldn't feel the need to reach out to Scarborough and ask about it.) Scarborough recalled that he's been critical when the left has used race — "it happens every election, to race-bait" — and he'll surely do so when those on his side do the same. This ad, he repeated, is an example of that.
"Which of the three members that have hijacked the NRA from its 4 million members — good men and women, law-abiding women across the United States of America — who is responsible for that?" Scarborough charged. "Don't call me. Call them and ask who did this."
Watch below, via MSNBC:

Have a tip we should know? tips@mediaite.com