Scarborough: Dems' Anti-Koch Campaign 'The Stupidest Strategy I've Ever Heard'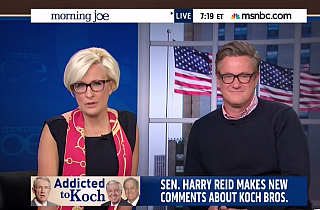 MSNBC host Joe Scarborough tore into Senate Majority Leader Harry Reid (D-NV) on Friday over his consistent campaign against the Koch Brothers in an effort to stir up support among Democratic voters and brand Republican candidates as beholden to big money. Calling it the "stupidest strategy," Scarborough said that any political actor who thinks voters care about who funds 30-second ads may be "too stupid" to be allowed to run household appliances let alone hold public office.

NBC News Chief White House Correspondent Chuck Todd said that the Democratic strategy in 2014 appears to be centered on making Republicans wary of associating with the Kochs and neutralizing their ability to invest in politics. "I think it's a tough argument to make," Todd said.
RELATED: Chris Matthews Reminds Scarborough to Avoid Being Charmed by Rick Perry
"It's the stupidest strategy I've ever heard," Scarborough remarked. "If somebody think that a voter in Raleigh, North Carolina gives a damn about who is financing 30-second ads, they are too stupid to be in politics."
"You have to be really stupid to think that this is going to work," he continued.
Scarborough went on to say that Reid is denigrating the high office he holds by using "McCarthyite terms" like calling the Koch's "un-American." When he asked if most Democrats are comfortable with Reid's strategy, Meet the Press host David Gregory said he they seem to be.
"To have our politics be that shrill from that high a level is going to turn a lot of people off," Gregory said. However, he noted that this strategy could be effective for mobilizing the Democratic base ahead of the midterms.
Watch the clip below via MSNBC:
[Photo via screen grab ]
— —
> >Follow Noah Rothman (@NoahCRothman) on Twitter
Have a tip we should know? tips@mediaite.com