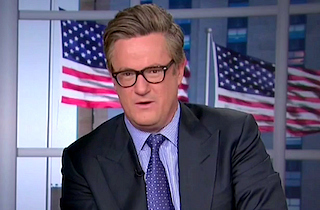 Morning Joe host Joe Scarborough dismissed Thursday morning Attorney General Eric Holder's claim that nobody in his position had been treated as disrespectfully as he had been by Representative Louie Gohmert (R-TX) yesterday, arguing that critics were far tougher in the 1990s on then-Attorney General Janet Reno.

"[Holder's] right," Scarborough said sarcastically. "Absolutely no attorney general has ever been held in such contempt as this before. Unless, of course, you talk about Janet Reno, who was accused of murder by Republicans after Waco. I mean, you were there in the 1990s. We were all there in the 1990s. I was there in the 1990s. I can tell you what happened yesterday, if Louis Gohmert were interviewing Janet Reno in 1993 after Waco, or 1994 after Ruby Ridge, it would have been at least that tough, would it not?"
RELATED: Louie Gohmert Reveals Whether It's 'Personal' Between Him and Eric Holder
Scarborough said Holder had implied his severe treatment was due to race.
"We always hear this about Barack Obama as well," Scarborough continued. "'Oh, he's treated worse than anybody.' Really? Talk to Bill Clinton! The Clinton Chronicles? People accused Bill Clinton of murdering political rivals in Arkansas. National figures accused Bill Clinton of murder in Arkansas. So when you're going to say to Barack Obama and Eric Holder have been treated worse than anybody else in the history of American politics because of their race? You're not even going back twenty years, let alone 200."
Watch the clip below, via MSNBC:
[Image via screengrab]
——
>> Follow Evan McMurry (@evanmcmurry) on Twitter
Have a tip we should know? tips@mediaite.com