Scarborough Explodes on GOP Candidates in Patriotic Rant: Stop 'Whining' About America!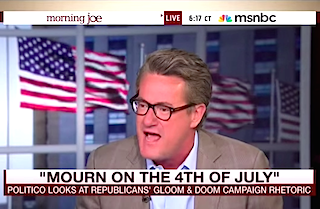 MSNBC's Joe Scarborough insists he isn't running for office, but in a post-July 4th rant Monday morning he tore into the GOP field for failing to express enough optimism about the future of America.
After Politico's Mike Allen reviewed just how negative the Republican presidential candidates' stump speeches were over the weekend, Scarborough weighed in on what he views as a losing strategy. Since President Barack Obama and Hillary Clinton do not project a Reagan-esque "sunshine, patriotic" view of America, Scarborough argued that Republicans are shooting themselves in the foot by going all "doom and gloom."
From there, the Morning Joe host delivered what sounded a lot like his own campaign stump speech:
"Listen, we're still the greatest country in the world! Even the Chinese say eight of the top 10 universities are ours. There is an energy revolution that happened despite Washington, it was American ingenuity that figured out how to drill sideways, draw more energy up. We totally blew everybody's minds and now we're going to control the next century. We've got Apple, we've got Intel, we've got the tech sector, we've got the smartest, most brilliant people in the world… All we have to do is get Washington out of its way!"
"And I'm not even running for anything!" Scarborough added, getting more and more worked up. "Why doesn't any Republican believe that the new American century is going to be better than the last? And I'm dead serious, I'm so tired of 'em whining. Let the Democrats whine!"
"My God, I have never seen a century more lined up to be exploited by American genius and American know-how than a century that's going to be decided on technology and talent!" Scarborough concluded as his co-hosts nervously laughed around him.
"Joe, that was even better than when you practiced it in the mirror this morning," Willie Geist joked in response.
Watch video below, via MSNBC:
[Photo via screengrab]
— —
>> Follow Matt Wilstein (@TheMattWilstein) on Twitter
Have a tip we should know? tips@mediaite.com