Scarborough: Gaffes Abroad Show Romney Primarily Businessman Who Got Into Politics 'For Whatever Reason'
Scarborough: Romney Primarily Businessman Who Got Into Politics 'For Whatever Reason'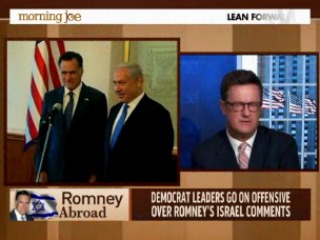 On Monday, the Morning Joe panel turned its attention to Mitt Romney's overseas tour, particularly his comment about the role "culture" plays in creating "such a dramatically stark difference in economic vitality" between Israel and Palestine. Palestinian officials have denounced Romney's comment as racist and unhelpful.
RELATED: Romney Angers Palestinians, Top Aide Calls His Comments 'Racist' During Jerusalem Trip
Host Joe Scarborough felt that, while Romney's trip will turn out to have a "negligible" impact on the election, voters who are paying attention will doubtless not be comforted by Romney's performance. In fact, Jon Meacham referred to it as a "running SNL skit."
Mark Halperin, meanwhile, felt that his performance shows a lack of awareness for and appreciation of context on Romney's part. "You can say something in Iowa or in a book, and no one cares, " he explained, "but you can't say the same thing necessarily in the Middle East, in particular."
Scarborough then presented the idea that, while Romney may be a great businessman and family man, campaigning is not something that he "feels in his bones." Rather, "this is a business man who decided to get into politics for whatever reason" without an appreciation for nuance or awareness of history or context. He also, Scarborough continued, shares his "very little love for politics" with Barack Obama and George W. Bush. Contrast them to, say, Bill Clinton, whom Scarborough sees as possessing a seemingly natural affinity for the "sport" of politics.
One major underlying issue at play here, the panel agreed, is that politicians tend to trip up when they attempt to become pundits.
Check it out, courtesy of MSNBC:
Have a tip we should know? tips@mediaite.com