Scarborough Goes After Media Blaming Society For Boston Attack: 'It Wasn't Our Fault…Blame Them!'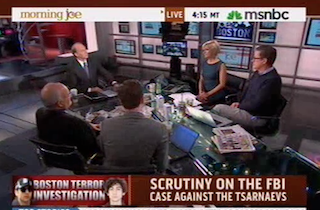 On Monday's Morning Joe, the panel discussed a variety of Boston-related issues, ranging from how to get to the root of the motivation behind such attacks to how the city's lockdown decision may influence "copycats." Amid the discussion, the hosts and guests also took the time to call out some of the politicians' and media's take on the story.
"It would be nice, although I realize it's impossible," Mike Barnicle hoped, "to have people who are running for office — whether you're running in South Carolina or anywhere else — to just sit back, stop, and think about this."
"Before you make the leap into terrorism, they are murderers," he asserted. "That's the first thing that people ought to be aware of, especially United States senators who want to inject themselves into this thing."
Barnicle's remarks didn't elicit much reaction at that point in the conversation. Later in the segment, though, Joe Scarborough revisited the topic, this time getting specific and pointing to Sen. Chuck Grassley's remarks, which linked the bombing to immigration reform. Sen. Dan Coats drew the connection as well.
"Given the events of this week, it's important for us to understand the gaps and loopholes in our immigration system," Grassley said. "While we don't yet know the immigration status of the people who have terrorized the communities in Massachusetts, when we find out, it will help shed light on the weaknesses of our system."
"How can individuals evade authorities and plan such attacks on our soil?" he further asked.
Richard Haass pointed to the issue of mainstreaming immigrants, arguing that we should integrate them fully into our society. "I did not think this was reason to slow down the immigration legislation," he added. "If anything…I thought this was reason to accelerate it." Because we don't want people in this country not feeling part of society.
Scarborough was wary, pointing to unnamed newspapers that said we didn't properly integrate the suspects. "It wasn't our fault that they put a bomb at the feet of an eight-year-old boy. Don't blame society for that," he argued. "Blame them."
Take a look, via MSNBC:

Have a tip we should know? tips@mediaite.com