Scarborough Goes Off On GOP For Voting Against Background Checks: 'This Party Is Moving Toward Extinction'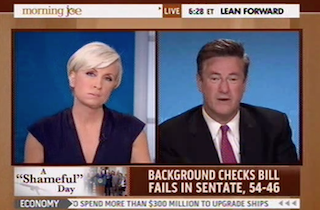 As was expected by anyone who's seen more than five minutes of Morning Joe in the past couple months, Joe Scarborough was upset this morning after the Senate failed to pass a measure that would expand background checks for gun purchases. Calling out those who voted against it, Scarborough emphatically stated that this Republican Party is headed toward "extinction" — and a new one will take its place.
Most of the times, "when you lose, you lose," Scarborough said. But this time is different. "This is just the beginning" — and the fight won't end until we have a better background check system. Mike Barnicle agreed with Scarborough, noting that President Obama wasn't the one who lost yesterday. "The president did not suffer a defeat," he asserted. "The American people suffered the defeat yesterday in the United States Senate."
As Barnicle went on to illustrated how the Senate is a "broken" institution, the discussion turned toward filibuster reform, and how the talk about it didn't result in any action. If Democrats had pushed to change the rules, Scarborough posited, this bill would have passed.
"You do not ignore 90 percent of the American people on an issue of public safety," Scarborough charged, following Mika Brzezinski's praise about how he's always right about political ramifications:
"Mark it down, this is going to be a turning point in the history of the Republican Party as well. And let those out there chattering, let them chatter away all they want to and scream like hyenas. … This party that killed this background check yesterday — this party is moving toward extinction. A new Republican Party is going to replace it. And this is going to be a vote that people will look back on and say, 'That party, that extremism, that was unsustainable.'"
Take a look, via MSNBC:

Have a tip we should know? tips@mediaite.com