Scarborough Goes Off On Jay Carney: 'I'm Not Someone You Talk Down To From Your Podium'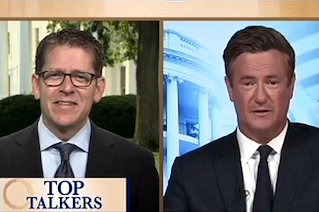 Despite several protestations that he really "wanted to talk about the economy," Morning Joe host Joe Scarborough took a detour during his interview with White House Press Secretary Jay Carney on Wednesday morning to dress down the spokesman for bringing "talking points" on his show.
Scarborough's fuse was lit when Carney invoked "phony scandals." Carney argued that the "scandal" part of the IRS affair was mostly the result of "cherry-picked" and "selectively released" information by House Oversight Committee Chairman Darrell Issa, then ginned up by an eager media that forgot the story once the evidence didn't support the salacious headlines.
The MSNBC host, a former GOP congressman, didn't appreciate the IRS scandal being referred to as "phony."
"At the beginning, you said it was just the Cincinnati office," Scarborough said. "Then we find out more people in Washington are involved, and then this past week we found out, despite what any of us think of the investigations on Capitol Hill—and I see you smiling, I don't know that there's anything to smile about—that it wasn't a couple of crazy people in Cincinnati, that this information actually went up to the Chief Counsel of the IRS, which was one of two political appointees by the President of the United States and the entire IRS. So it doesn't sound phony to me, Jay."
RELATED: 'Worthless, Embarrassing Nuisance': Ex-Obama Press Aide Calls For End To White House Press Briefings
Carney began, "I greatly appreciate that that is the line pushed by Republicans who want Washington to be focused on scandals instead of the economy—"
"No, no, no, no, no, no, no, no, Jay! Is that the truth or not?" Scarborough demanded. "Don't give me talking points! That doesn't work on this show…So answer my question, and then let's talk about the economy."
"When you get to the answer I'll answer it—"
"I gave you the question, and you decided to fight me, Jay," Scarborough said, and then, over Carney's multiple attempts to speak: "Stop your games with me. We've known each other for too long. I'm not playing your games! I'm not somebody you talk down to from your podium!"
Once Scarborough actually let Carney get a word in, he received a full, detailed answer that was still what the White House has been saying for weeks.
Watch the clip below, via MSNBC:
—
>> Follow Evan McMurry (@evanmcmurry) on Twitter
Have a tip we should know? tips@mediaite.com