Scarborough Goes Off On 'Mainstream Media' For Giving Dems 'Free Ride' On Never Proposing Own Budget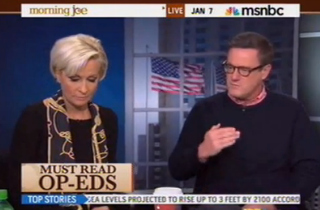 MSNBC's Morning Joe host Joe Scarborough is unhappy with the "mainstream" media for giving Senate Democrats a "free ride" on never proposing their own budget.
After declaring for the rest of his show's hosts that what Washington has is a "spending problem," Scarborough took exception to Mika Brzezinski saying "we've got to get the two parties to seriously talk about spending," saying:
You say to get the two parties to talk about it, let's look at what's happened. Paul Ryan put a budget out. What did we hear about Paul Ryan's budget after he put it out in the House of Representatives? How savage it was, how cold it was, how cruel it was. What did Democrats put out in the Senate, which was their constitutional requirement? Nothing. They haven't put out anything for years. They haven't proposed cuts. They keep saying generally the president's proposed cuts. Nobody can tell you what those specific cuts are. I've been very critical of Republicans, and we've seen quite a few tense showdowns where Republicans came on and said they aren't going to have to raise taxes. They are. We're in James Madison's Washington, and so taxes had to be raised. but Democrats have to come forward with real cuts. And when is Harry Reid going to do that? When are the Democrats in the Senate — how long's it been? How many thousands of days? 1,000? 1,100 days since the Democrats have produced a budget in the Senate? And why isn't the media talking about this?
The rest of the panelists seemed stumped by his question. When he put it to John Heilemann, the political analyst hesitated before saying, "It's a mystery, Joe. I don't know."
Hearing a chuckle or two from his colleagues, Scarborough reacted, "I'm dead serious. Republicans would never be allowed to be this reckless and irresponsible. And the media still is going to keep turning to Republicans and attacking them when Democrats haven't put out a budget. They refuse to propose any real significant cuts. And they're just sitting there going, we're going to wait for the Republicans."
He went on to note that the president repeatedly puts out his own budget, but fails to get votes from his own Senate Democrats. "Who are these Senate Democrats," Scarborough asked, "and why does the mainstream media continue to give them a free ride?"
Andrea Mitchell seemed to agree: "It's a very good question because they could just continue to point to John Boehner and blame everything on the House. But they have taken no responsibility for any kind of fiscal solutions here."
When Brzezinski was asked her take, she said, "These Republicans need to look at why they got nothing."
Scarborough took issue: "Wait. Are you so partisan that you can't admit the obvious, that Republicans passed a tax increase?"
Watch below, via MSNBC:
— —
>> Follow Andrew Kirell (@AndrewKirell) on Twitter
Have a tip we should know? tips@mediaite.com