Scarborough & Guests Chronicle Obama's 'Fall From Hope & Change': 'Joke Is On' Those Who Thought He'd Be Different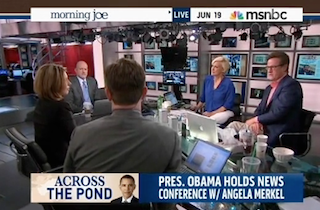 Ahead of President Obama's speech at the Brandenburg Gate in Berlin, Joe Scarborough & Co. reflected on the president's second term woes — and how far he's "fallen from hope and change." A few years ago, they recalled, both sides of the aisle were in awe of him. But now, the "joke" is on the millions of people who believed he'd actually be different.
We're seeing a second term "unmoored," Scarborough observed, referring to his troubles with both legislation and scandals. At home, Obama "has failed to control the conversation politically," Jon Meacham added, noting that second-term presidents love dealing with foreign affairs.
Five years ago, Scarborough and Meacham reminded, people were decrying the Bush administration and Obama was the great "hope and change" candidate. It was "an exciting moment" for many. The situation now is a stark contrast, Scarborough compared. Even Republicans felt "this guy is going to be difficult to beat" — but now he's "fallen from hope and change to struggling with Congress and the realities that so many people thought he could transcend."
"The joke is not on President Obama," Nicolle Wallace argued, because issues like drones and the NSA speak to the reality of assuming the presidency. "The joke is on the millions of people who thought he was going to be different."
The "political tragedy," she added, is that Obama's anti-terror policy is not only no different but also more expansive. Not "begrudging" any president for realizing the dire threats facing the country, Wallace said, "It certainly makes fools out of all the people that thought he was going to be different."
Take a look, via MSNBC:

Have a tip we should know? tips@mediaite.com