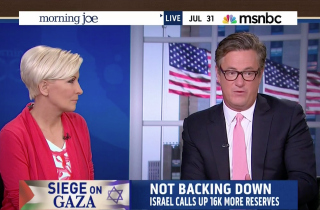 While he is normally known as a staunch advocate for the State of Israel, MSNBC host Joe Scarborough railed against the country's ongoing offensive in Gaza.
Describing himself as a "100-percent supporter of Israel," Scarborough noted that when he was in Congress, there was a joke that "anytime I wanted a key to the city of Tel Aviv, I could get a gold-plated one."
Thursday on Morning Joe, however, Scarborough said: "This continued killing of women and children, in a way that appears to be indiscriminate, is asinine." He added that the mounting civilian death toll in Gaza was not just tragic for Palestinians, but significantly looks bad for the Israeli people and for the United States.
"We will rue the day that this is happening every day," he continued. "As much as we all hate Hamas, what is going to replace Hamas is going to be much worse. It's going to be a radical Islamist group instead of a power-hungry, corrupt people that despise Israelis. This is such a nightmare that is unfolding."
Republican strategist Nicolle Wallace interjected that Israel would quibble with calling the offensive "indiscriminate" in killing civilians, but Scarborough pressed on:
They blew up a popular marketplace yesterday and they blew up a U.N. school where there were 17 warnings — 17. That is indiscriminate. You know what? We share Israel's values a hell of a lot, a lot more than the people than they are bombing, but you know what? The United States of America — we cannot be associated with this if this continues. This is so bad, not only for the Israeli people, but for us.
Watch below, via MSNBC:
— —
>> Follow Andrew Kirell (@AndrewKirell) on Twitter
Have a tip we should know? tips@mediaite.com