Scarborough: Isn't It a 'Wee Bit Hypocritical' for Obama to Attack Trump's Exclusive Golf Courses?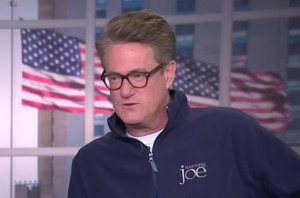 MSNBC's Morning Joe host Joe Scarborough accused President Barack Obama of being a hypocrite Wednesday morning after the president attacked Donald Trump for living an elitist lifestyle.
"He wasn't going let you on his golf course," Obama said in a speech Tuesday. "He wasn't going to let you buy in his condo, and now suddenly this guy is going to be your champion?"
But Scarborough pointed out that criticism went both ways. "It is fair to say also that most of the people in that audience could not play on the golf courses and go to the clubs and live in the neighborhoods where Barack Obama golfs, where's he lived in the past and where he'll live in the future," he said.
"If you're going to do the whole elitist thing, you have to make sure that you don't play on the most exclusive golf courses in the world and you aren't going to play in the most exclusive golf courses in the world for the rest of your life," he continued.
"Oh, come on," protested his co-host Mika Brzeznski.
"Oh, I'm sorry, did I offend you and your sensibilities, Mika?" Scarborough chuckled. "Because your hero may have been just a wee bit hypocritical there… You can't mock and ridicule Donald Trump for playing on golf courses where other people in the audience won't be able to play when that's what Barack Obama does regularly and will for the rest of his life."
Watch above, via MSNBC.
[Image via screengrab]
——
>>Follow Alex Griswold (@HashtagGriswold) on Twitter
Have a tip we should know? tips@mediaite.com