Scarborough: I've Never Heard Anyone Oppose Obamacare Because of President's Race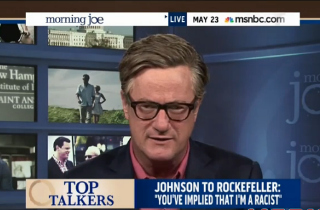 During Friday's cup of Morning Joe, host Joe Scarborough took issue with Democratic Sen. Jay Rockefeller's claim that some opposition to the Affordable Care Act is driven by hatred of President Obama's race.
Rockefeller made such an accusation Thursday during a tense exchange with Sen. Ron Johnson (R-WI) over the health care legislation. The Democratic legislator said that many people oppose the law "because they don't like the president, maybe he's the wrong color." Johnson immediately jumped in to blast his colleague for playing the "race card."
Scarborough agreed, telling his fellow panelists:
I have been behind closed doors with thousands of conservatives through the years. I have never once heard one of them say in the deep south, or in the northeast, or in South Boston: 'Boy, I really hate Obamacare because that black president.' No, I've never heard anybody come close to saying that. And I have spoken to some wildly right-wing groups; I have never heard it once.
Scarborough also objected to Rockefeller's decision to make such an assertion with only one Republican (Sen. Johnson) in the room. "Rockefeller suggested that millions and millions of Americans who opposed the Affordable Care Act… have racist reasons for doing that. That's one of the stupidest, most offensive things I've heard a sitting senator say."
The host also suggested Rockefeller apologize to Johnson and his Republican colleagues.
Washington Post columnist Eugene Robinson noted that Rockefeller said "some" of the opposition was racist; not all of it. He suggested doubters look at his own hate mail to see that there is sometimes a racial element to the opposition.
Watch below, via MSNBC:
[h/t TPM]
[Image via screengrab]
Have a tip we should know? tips@mediaite.com