Scarborough Lashes 'Embarrassing' Congressmen Who Refuse To Face ObamaCare Fees They Voted For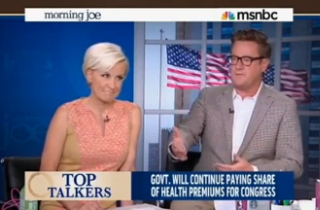 On Friday morning, MSNBC's Joe Scarborough tore into the Democratic members of Congress who have pleaded with the president to give them special exemption from higher premiums imposed under ObamaCare, a law for which they voted.
As his Morning Joe co-host Mika Brzezinski read the news that President Obama has intervened to allow the government to continue helping members of Congress and their staffs pay for the new premiums, Scarborough interrupted to heap mockery upon them:
"Members of Congress were furious they were going to be held to the same law that they passed?! […] It is odd. They got so angry. By the way, so the president goes up to see the Democrats this week, what is the first thing they're yelling at him about? Their premiums. 'You mean we're going to have to live by the laws that we passed on to the American people?!"
Scarborough also tore into what he perceived as a double-standard: Small businesses who complain about belt-tightening as a result of the premium hikes under ObamaCare are told "You are all so crazy," he said, while on Capitol Hill, congressmen get special treatment because they worry they'll have to cut staff.
"It's awful, so embarrassing," he said with a chuckle. "They passed this law!" He then put on a faux-deep voice and pretended to narrate what he predicts to be the theme of many upcoming Democratic primary ads: "Congressman Scarborough voted for ObamaCare to raise your health premiums and yet he had the president exempt him from ObamaCare. Let's exempt Congressman Scarborough from Congress."
Watch below, via MSNBC:
— —
>> Follow Andrew Kirell (@AndrewKirell) on Twitter
Have a tip we should know? tips@mediaite.com