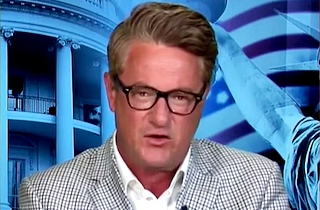 Morning Joe host Joe Scarborough wondered Tuesday morn if the media was "missing the target" on Donald Trump's comments about John McCain's (R-AZ) war heroism by focusing on a salacious five-second clip rather than Trump's later corrections.
This, not incidentally, is what Trump has been saying the past three days, quoting a Sharyl Attkinson piece attesting to the fact that after the sneering comments about McCain and POWs at an Iowa event Saturday, Trump backtracked a bit and acknowledged McCain was a war hero.
"All of the news reports that I read were focused on this horrible, deplorable five-second joke Donald Trump gave, but not the number of times — almost immediately, you could tell in his mind, boy, I screwed up on that one…then says, 'I do think he's a hero,'" Scarborough said. "Nobody, nobody was covering that. Nobody."
"There is a real danger for the New York Times and the Washington Post and ABC, CBS, NBC, everybody else, that if they don't get this right — I know they're trying to cut his head off, for good reason — …[But] they need to be very careful or people are going to tune them out."
"You look at those clips and at this point, they're looking at a five-second horrible, deplorable Al Franken joke and trying to end his presidential career," he concluded.
Trump also insulted all POWs in his remarks, but hey. Watch the clip below via MSNBC:
[Image via screengrab]
——
>> Follow Evan McMurry (@evanmcmurry) on Twitter
Have a tip we should know? tips@mediaite.com