Scarborough, Michael Steele Go After 'Idiots' In GOP: 'Before I Pass Away, I Would Like' GOPer In White House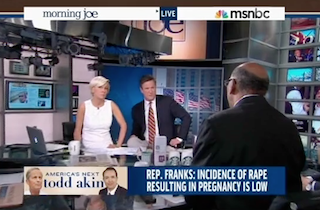 The folks of Morning Joe had another round of GOP, Please Stop Talking About Rape on Thursday morning, brought to you courtesy of Republican congressman Trent Franks who — in arguing for a bill that would ban abortions after 20 weeks — said, "the incidence of rape resulting in pregnancy are very low." At this rate, Joe Scarborough and Michael Steele lamented, how will we see a Republican president any time soon?
"You know what's simple? If you're a Republican?" Scarborough asked. "Not talking about rape."
Steele questioned why they were even having the discussion, as Scarborough quipped that Republicans keep mentioning the issue. "As a pro-life Republican, this is not something that's part of the national debate right now," he argued. "Americans are concerned about Syria, they still are concerned about the economy, things where the Republicans can be leading and moving women and moving Americans across the spectrum to our argument."
As he's wont to do, Scarborough noted reaction he's seen from Republicans "out and about" who are outraged by remarks like Franks' — and he questioned why such individuals want to damage the party.
"The national party right now really has to find a better voice," Steele noted. "Or maybe it should just find a voice."
A voice that will "tell the idiots out there to just shut up," Scarborough agreed. "Because you know what? Before I pass away, I would like to have a Republican in the White House again."
But alas, Steele lamented, "that day is looking further and further away." Diagnosing the problem, Scarborough added, "We are so undermined by so many of the shrillist voices in our own party. That has nothing to do with conservatism."
Take a look, via MSNBC:

Have a tip we should know? tips@mediaite.com