Scarborough Mocks GOP's Network Boycotts: Go On 'BET! Let People Hear Your Candidates'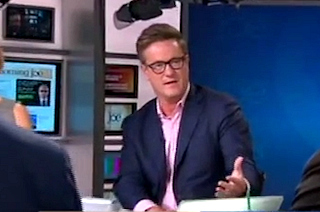 On Morning Joe Monday morning, host Joe Scarborough cautioned RNC Chairman Reince Priebus away from his boycott of various networks producing Hillary Clinton film projects, reminding Priebus that the GOP needed to expand its electoral base, not consolidate it.
"You don't win the presidency, if you're a Republican, by winning northwest Florida," Scarborough said. "You win it by winning the I-4 corridor, by winning the suburbs, Columbus, Ohio, the suburbs of Philadelphia. That's why you want to be on as many networks as possible."
Earlier in the segment, Harold Ford had quipped that Priebus would be left with BET and TV1 by the time he was done boycotting networks, especially given Fox Studios' involvement with the NBC Hillary miniseries. Scarborough ran with this.
"Somebody joked about BET—damn straight!" Scarborough said. "Every channel you can get on, debate it. Let your people hear your candidates."
RELATED: Reince Priebus Accuses CNN's Candy Crowley Of 'Adopting Democratic Spin' On Government Shutdown
"They have to expand the electorate that's hearing their message," Robert Gibbs added. "How many times do we recall or did we play clips for the whole election of answers that were given in very narrow Republican primary debates, right? Self-deportation. Obviously was something that chased Mitt Romney, not just in the primary, but throughout the general election."
"A lot of the early Republican debates were really raucus," Scarborough replied. "People would be cheering when you talked about self-deportation. And if the candidate wanted to make a win, they needed to go further and further out there, and then boom!—it hammers them. This is not being about whether you're conservative or ultraconservative. It's whether you put yourself in a position where you just can't win a general election."
Watch the clip below, via MSNBC:
————
>> Follow Evan McMurry (@evanmcmurry) on Twitter
Image via MSNBC
Have a tip we should know? tips@mediaite.com