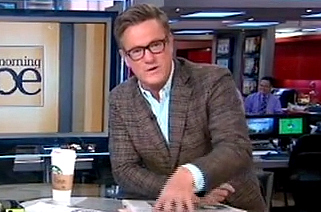 Arguing that the GOP had too many spokesmen "setting their hair on fire," Morning Joe host Joe Scarborough praised former House Speaker Newt Gingrich's upcoming move to CNN's Crossfire revival, claiming the show will cool Gingrich's rhetoric and resuscitate an "intellectual approach" within the GOP.
"I think that's good for the Republican Party," Scarborugh continued, "because we have a lot of people grabbing the headlines! We have a lot of people going out, setting their hair on fire. Glenn Beck. Listen—I think confession's good for the soul. Glenn Beck said we are all rodeo clowns. Glenn Beck speaks for himself there, and he's right. There are enough people like that. There are enough politicians like Ted Cruz. I want more people like Pete Wehner. I want more people like Newt Gingrich yesterday. I want more people like Charles Krauthammer. I don't want more people like Bill Kristol. Let's have an intellectual battle inside the party, and stop being rodeo clowns."
RELATED: Newt Gingrich Attacks GOP 'Culture' That Rewards 'Vicious' Attacks But Not Ideas
Scarborough admitted that "Newt, Inc" had gotten far on "throwing out rhetorical flourishes," but that the show would return him to the articulate spokesman for conservative values he was in the 90s.
"By the way, this is who Gingrich is, who Gingrich has always been," Scarborough said. "People that have known him have always scratched their head going, 'Wait, wait, wait, wait, why did he say that about giraffes? Why is he making these crazy comments back and forth?' Newt can be a conservative icon and do what he did in '93 and '94 without the really hyperbolic statements, and giving the intellectual approach to how Republicans become relevant again. I am glad that he's going to work somewhere where he doesn't have to throw out rhetorical bombs to succeed."
Huffington Post's Sam Stein did point out that Crossfire was based entirely on throwing rhetorical bombs.
Watch the full clip here, via MSNBC:
————
>> Follow Evan McMurry (@evanmcmurry) on Twitter
Image via MSNBC
Have a tip we should know? tips@mediaite.com