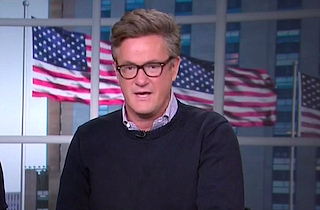 On Morning Joe Tuesday morning, co-host Joe Scarborough warned that the problems over the Affordable Care Act, and President Barack Obama's "bunker mentality" response, could recreate the conditions that elected a class of tea party representatives in 2010.
"The tea party didn't just come and drop down on Earth from Mars," Scarborough said. "These people didn't come from anywhere. They are the children of Obamacare. They get elected because of the excesses in 2009 and 2010. We predicted it, right here on this show, in real time. So why does the president need to back up? Why does he need to catch his breath? Why does he need to stop sounding like Richard Nixon in a bunker, trying to explain why he didn't lie to the American people when New York Magazine has a tape of him doing that 26, 27, 28 times?"
"What happened in 2010 with the overreach is impacting politics today in Washington, D.C.," Scarborough continued. "If this continues, yes, the website will be fixed. But the scar tissue politically is going to elect a lot more people in 2014 that will look like the people that were elected in 2010. This doesn't happen in a vacuum…That's why Senate Democratic candidates from red states are going to the president right now and saying, 'We are in trouble. You need to help us.'"
Co-host Mika Brzezinski disagreed, arguing that Scarborough's analysis failed to take into account the self-inflicted wounds of the tea party, including the recent government shutdown that greatly harmed the GOP's approval rating.
"Ted Cruz has gotten out of the way," Scarborough replied. "The Republicans have gotten out of the way. They have learned their lesson. The spotlight is on Obamacare. It would have been on Obamacare two months ago" if not for the shutdown.
Watch the full clip below, via MSNBC:
[Image via screengrab]
——
>> Follow Evan McMurry (@evanmcmurry) on Twitter
Have a tip we should know? [email protected]