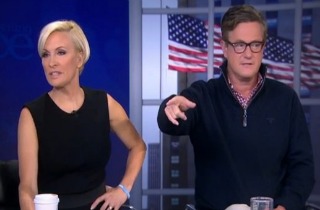 Did something happen to the infamous bromance between New Jersey Gov. Chris Christie and MSNBC's Joe Scarborough?
On Tuesday, Morning Joe mulled it over, yet again, whether Mitt Romney can or will make another bid for the White House. Sizing up the potential Republican field of 2016 hopefuls, Christie and former Florida Gov. Jeb Bush had their names thrown into the mix.
Then Scarborough did to his friend Christie the equivalent of picking the fat kid last on his team for baseball.
"We ought to just say what– we ought to do what we do around here and say on the air what everybody says off the air in Republican circles," Scarborough said. "No, I'm just going to say, if you want to know what Mitt Romney is thinking, nobody thinks Chris Christie can win."
Scarborough continued:
Nobody thinks he can get past everything that's happened before even if he's exonerated [from the bridge lane-closure scandal]. Nobody thinks he's got the temperament to run. Nobody thinks he can handle Iowa. Nobody thinks he's going to win in South Carolina. Et cetera, et cetera, et cetera. I only say that to say nobody around Mitt Romney is saying, 'Oh boy, if Chris Christie gets in, we better not do it.' And we're all talking about who has the mantle for the establishment wing of the Republican party. It's Jeb or it's Mitt and if Jeb doesn't run, then I think Mitt may be on his way.
Christie may need to reconsider his personal relationships.
Watch via MSNBC:
[Photo via MSNBC/screen grab]
— —
>> Follow Eddie Scarry (@eScarry) on Twitter
Have a tip we should know? tips@mediaite.com