Scarborough On Palin's Exit From Fox: 'De Facto' Leader Roger Ailes 'Realized What Had Gone Wrong' In GOP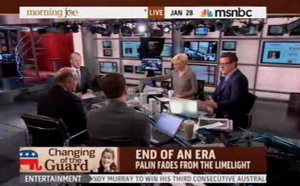 Morning Joe kicked off the week by discussing Sarah Palin and her departure from Fox News. The time and place she represented is "passing us," Joe Scarborough asserted — using the opportunity, as he is wont to do, to offer his fellow Republicans some advice.
RELATED: Palin After Leaving Fox: 'We Can't Just Preach To The Choir,' Conservatives Must 'Broaden Their Audience'
Scarborough said Palin's split with Fox News is important because after President George W. Bush the "de facto" leader of the conservative movement has been News Corporation head Roger Ailes. When Ailes "decides she's not worth the trouble, then that means that conservatism's moving in a new direction," he contended.
And with that, he was off. Echoing Louisiana Gov. Bobby Jindal, Scarborough said the Republican Party must stop being "stupid" — and furthermore that the "conservative movement has stifled debate."
"Are you saying that pushing her out of the spotlight as part of making the stupid party less stupid?" Mika Brzezinski asked.
Palin, he said, "represented a time and place in American politics." And "that time is passing us very quickly." Scarborough went on:
Roger Ailes saw this coming well before the 2012 election. He had realized what had gone wrong. Not only at his network but also in the conservative movement of the Republican Party. That's why he was running out and talking to Chris Christie saying, 'Get in this race, you can save this party.' And Ailes was right.
Palin, after all, "was more theatrics than anything else." In a sense, Willie Geist chimed in, Palin was a "proxy" for many conservatives to fight the media, Democrats, and President Obama. For those who felt they were treated the way she was treated.
She represented "Republican resentment," Scarborough said. And unlike Ronald Reagan, she was unable to follow through on it.
Take a look, via MSNBC:

Have a tip we should know? tips@mediaite.com