Scarborough Questions Steve Kornacki on Inconsistencies in Hoboken Mayor's Christie Allegations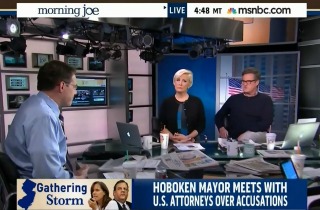 A panel on MSNBC's Morning Joe with Up host Steve Kornacki became animated on Monday morning as they dug into the allegations made against New Jersey Gov. Chris Christie by Hoboken Mayor Dawn Zimmer over the weekend. Host Joe Scarborough probed Kornacki over what he said were inconsistent patterns of behavior demonstrated by Zimmer if she was being threatened by the governor.

Zimmer had alleged on Kornacki's MSNBC show that Christie's office threatened to withhold Hurricane Sandy aid until Zimmer approved of a development project that the New Jersey governor's office favored.
"It's a very serious allegation to lodge," Kornacki said. He went on to say that Zimmer was a "Democratic ally" of Christie's, which makes her story that much more impactful.
"Even after all this and what she shared in the show on Saturday she sat at a table like this in this set on Saturday and she told us, 'I still think he has done very good things for the state of New Jersey," Kornacki said.
RELATED: Hoboken Mayor Alleges That Chris Christie's Lt. Governor Extorted Her Over Sandy Funds
"How can you say that and be consistent with, 'He has a corrupt administration and so corrupt , I thought it was going to be different it brought tears to my eyes,'" Scarborough asked. "That doesn't seem to line up straight."
"I'm just asking you as a human being," Scarborough said. "I'm not being difficult, I'm just saying."
"I'm not here to speak to what I would do in that situation," Kornacki replied. "I'm here to speak to the context of that story."
"So, you have no opinion on that?" Scarborough asked.
"I think it's totally understandable," TIME Magazine reporter Mark Halperin said. "She still needed stuff from the state."
Watch the clip below via MSNBC:
[Photo via screen grab ]
— —
> >Follow Noah Rothman (@NoahCRothman) on Twitter
Have a tip we should know? tips@mediaite.com