Scarborough Rails Against Justice Dept Snooping On Fox News: 'More Damning' To Go After 'The Opposition'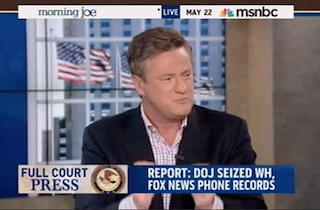 Tell us how you really feel, Joe Scarborough. The Morning Joe co-host devoted a segment on Wednesday to the Justice Department going after leaks — particularly the recently reported case involving Fox News. Scarborough railed against the Obama administration's approach, charging that the actions were more damning because they're aimed at "the opposition."
Scarborough questioned how this case is any different from the Pentagon papers, or the Cold War, etc. What makes President Obama think he's any different? As Cokie Roberts responded to that thought, Scarborough couldn't help but come back to a point he'd made earlier in the segment.
"Is this not more damning because they're going after Fox News' Washington bureau?" he asked. "Is this not more damning because they're going after what many people would consider the opposition? Whether you want to put 'loyal' in front of that or not. I mean, that's more concerning."
Bloomberg's Al Hunt contended that may be true in terms of perceptions — but the administration has been equal-opportunity awful on this front. There's an "obsession" with leaks, and while some of it may be serious, Hunt inferred there's no way for us to know.
They should've called in Roger Ailes, Scarborough argued, and explained the problem instead of "throwing this dragnet out there."
"It reflects the president," Hunt contended. "He has this obsession with leaks." And it raises questions about the "competency of the attorney general to hold office."
It's an issue, Roberts chimed in, that has unified Democrats and Republicans, MSNBC and Fox.
(Earlier in the show, Scarborough quipped, "It would be one thing if you're monitoring MSNBC's number. Because that would be kind of like, 'Okay well I wonder what party we're going to have together tomorrow night.' I joke, of course.")
Take a look, via MSNBC:

Have a tip we should know? tips@mediaite.com