Scarborough Rips Elizabeth Warren's Planned Parenthood Rhetoric: 'Stop Insulting Our Intelligence'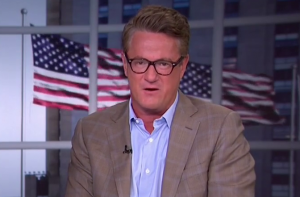 MSNBC's Morning Joe host Joe Scarborough attacked Massachusetts Democratic Senator Elizabeth Warren for standing up for Planned Parenthood in a way he considered insulting to voters' intelligence.
"Let's be really clear about something," Warren said on the Senate floor. "The Republican scheme to defund Planned Parenthood is not some sort of surprised response to a highly edited video. Nope, it's just one more piece of a deliberate, methodical, orchestrated right wing attack on women's rights."
But Scarborough was having none of it. "There are pro-choice people that believe fervently in the right of a woman to choose, who are equally repulsed, disgusted by those videos…" he said. "And for Elizabeth Warren to try to conflate the right of a woman to choose with the horror and grotesqueness of what is discussed over lunch is really unfortunate."
"Planned Parenthood is not synonymous with women's health. You can have women's health or you can have an organization that takes care of women's health, without having the number one abortion provider who speaks so callously over lunch about the harvesting of unborn children," he continued. "I'm saying, conflating the right to choose with Planned Parenthood, conflating taxpayer dollars with protecting women's health, that's just a red herring."
"Nice try Elizabeth Warren, nice try," Scarborough said. "It's only going to get worse for Planned Parenthood. I agree with Hillary Clinton, there are troubling things on those tapes. And everybody needs to open their eyes and see that, instead of reflexively talking about right wing attacks on a woman's right to choose."
"Please stop insulting our intelligence, Elizabeth Warren," he concluded. "Stop."
Watch, via MSNBC.
[Image via screengrab]
——
>>Follow Alex Griswold (@HashtagGriswold) on Twitter
Have a tip we should know? tips@mediaite.com