Scarborough Rips Sen. McCain, GOP For Blocking Hagel Over A 'Grudge': 'Is That How Small We've Become?'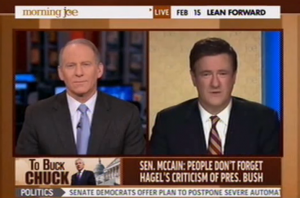 Chuck Hagel's confirmation process to become secretary of defense has been anything but smooth — culminating yesterday with the GOP blocking a vote in the Senate. Joe Scarborough reacted negatively to the latest development, but particularly to some of the reasoning behind it.
"There's a lot of ill will towards Senator Hagel because when he was a Republican, he attacked President Bush mercilessly, at one point said he was the worst president since Herbert Hoover, said the surge was the worst blunder since the Vietnam War, which was nonsense," Sen. John McCain (R-AZ) said on Fox News yesterday. "[He] was anti-his own party and people. People don't forget that. You can disagree, but if you're disagreeable, then people don't forget that."
Scarborough was not pleased. "For the 66,000 troops currently serving in Afghanistan and for the families all across America this morning," he said, "I'm sure they're glad to know that we don't have a secretary of defense in place and we're not going to because of a seven-year-old political grudge."
"Really?" he asked. "Is that how small we've become?"
Hagel "speaks out," Richard Haass responded, noting that trait has "gotten under a lot of people's skin." We what we're seeing now, he added, is on top of an already-dysfunctional Washington.
But the Pentagon needs someone at helm, Scarborough pressed — and since Hagel will end up being confirmed, this is just unnecessary. It's a way of "acting out" the "dislike" out there, Haass remarked, with Scarborough observing that he seemed rather calm about the whole situation.
"Does this not trouble you at all?" Scarborough asked. It does, Haass said, but "it's just the way Washington works." Hagel will end up at defense secretary, but " I'm much more worried, if you will, about the state of our politics."
Watch, via MSNBC:

Have a tip we should know? [email protected]
---