Scarborough Slams Santorum Over Obama's 'Timid' Terror Response: Even CIA Is 'Surprised At His Drone Policy'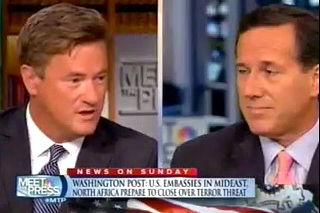 Morning Joe host Joe Scarborough clashed with former Republican presidential candidate Rick Santorum on the success of President Barack Obama's anti-terrorism policies, with Santorum tying this weekend's terror alerts to the attack in Benghazi, and Scarborough arguing that Obama had continued many of the previous administration's aggressive anti-terrorist actions.
Santorum accused the administration of emboldening future terrorist strikes by not capturing those responsible for the Benghazi consulate attacks.
"If you're looking at it from a terrorist perspective, you say, here's an administration that's pulling back, that's timid, and that's an opportunity to go after additional embassies," Santorum said.
Scarborough objected to this characterization: "Even the president's critics inside the CIA have been surprised at his drone policy, been surprised that he's adopted a lot of Dick Cheney's and George W Bush's approach on terror."
"Drone policy is one policy," Santorum replied. "What we've seen is an administration that has refused to confront radical Islam…They won't even use the word terror. They have withdrawn politically from the engagement and fight. Yeah, sure, they're going after bad guys with drones programs, but that is not a comprehensive policy against radical Islam.
"If you ever watch my show, I'm not in the business of defending Barack Obama," Scarborough said. "But if you talk to people in the intelligence community, they'll tell you that al-Qaeda is busted, it's broken, it's splintered. There's a reason right now that they're in Yemen, because they've been chased out of Afghanistan, they've been chased out of a lot of other countries. Al-Qaeda is not any stronger today than it was when Barack Obama came into office, and most conservatives in the intel community will tell you it's weaker than it was."
Scarborough then went on to argue with himself, noting that the use of drones in countries where we're not at war, and their proclivity for civilian casualties, had hurt the U.S.'s image in the Middle East as much as Bush's policies had.
Watch the full segment below, via NBC News:
—
>> Follow Evan McMurry (@evanmcmurry) on Twitter
Have a tip we should know? tips@mediaite.com